My name's Matt and I live in Worcester, Massachusetts. I have a couple three speed bikes, including an old Raleigh I restored and then loaned to my father. This bike is something I had been thinking about for a while, after I saw some pictures of British club racers from the 1940s and 50s.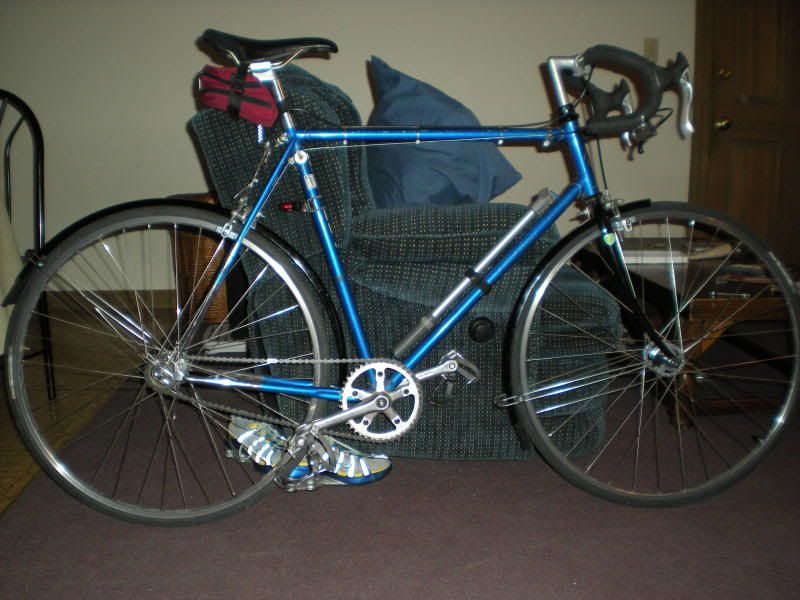 The frame is a 1973 Fuji S10S, the first successful Japanese road bike sold in the US. I stripped it completely, installed a sealed bottom bracket and headset, picked up a micro-adjust seatpost, and used parts out of my bin for the rest. The rear wheel is built up around a 1969 Sturmey Archer AW three speed. I put an additional spacer on both sides of the axle to fill out the 120mm spacing and laced it to a Sun rim. I used a high flange track hub up front. At first I used a Suntour barcon to shift, but the shifting wasn't great. I switched to flat bars for a while with a SA trigger shifter, but found the ride uncomfortable.
Finally, I removed the plastic face plate from the shifter and was able to mount it on the drop bar below the brake lever. It's not perfect, but it's the best solution I've tried. I spent a lot of time cleaning up this set up Dia Comp center pull brakes, but after putting the bike together, I realized the fork was bent (and the rear triange, but not as bad). I tried to straighten the fork but was unhappy with the results. Instead, I now have a Tange chro-mo fork with a modern Dia Comp side pull. The fork doesn't look as nice, and I can't run my original brake, but it feels a lot more like a modern road bike. So far, it's the lightest, fastest, best handling three speed I've ever ridden. I might upgrade to a lighter frame some day.